514-677-4357
| | |
| --- | --- |
| Ambulance Service | Home Euthanasia |
Welcome to K911's Pet Ambulance
K-911 Ambulance was born out of a tragic experience when Rodney McLean's dog named Timba became injured while swimming in the St Lawrence River. He was unable to get any transport to help him from his location. He called a taxi and when they showed up, they refused him service. It became evident to him that there was a need for an animal emergency transportation service. Rodney Mclean & Wayne Smith teamed up that same night and decided something had to be done and K-911 was created K-911 's Animal Ambulances primary aim is help transport their sick or injured pet to and from their local veterinarian 7 days a week.
Timba's Mission
Our sole mission is to truly help all pet owners in need of a K-911 Animal Ambulance or K-911 Emergency transport and we even offer home assistance with their pets when they need to get to the emergency or non-emergency veterinarian facilities day or night. Your pet will be securely mobilized in K911's Animal Ambulance where we are trained in pet first aid, CPR & medical oxygen thus giving your pet a fighting chance; we are professional, reliable and compassionate and every pet is treated as if they were our own pet
Our #1 priority is responding to your pet's emergency situations one pet at a time. We are a phone call away to help your pet get to the vet. We clearly recognize our pets as active members of our families and they are deserving of a service suited for humans but created for pets and here at K-911, we too, are responsible, caring & compassionate toward all animals and we treat your pet as if they were our own.
Timba:
"We strongly believe that our pets choose us for a reason, and even though Timba came to us on April 4th and died on April 4th the following year and in between his injury happened thus the creation of K-911's Animal Ambulance was born because of our Timba boy and his legacy he left behind to help out his fellow furry friends will always be remembered."
It was the summer of 2007 when I was walking my own dog named Timba down by the St Laurent River where I played fetch with him. He was a LabGolden retriever mix, 7 years old and he was a great family dog. This one time while playing fetch, Timba came out of the water holding his paw up in the air and still holding on to his toy...
I then noticed his paw and leg were bleeding and saw the cut from his leg to his paw. I immediately took off my t-shirt and wrapped it around his leg and paw to try and stop the bleeding. I was concerned seeing that I was about a kilometer from my home, and I remembered I had my cellphone, so I called a taxi immediately and then I carried Timba in my arms to Boulevard LaSalle.
When the taxi driver saw the blood through the t-shirt on Timba's leg, he refused to help us and drove off. I called a family member who came, and we took him to the emergency veterinary facility where they treated him. He ended up having 8 stitches.
That night, we sat going over the event that happened earlier that day with Timba. Frustrated and mad as hell because we could not get any help for our pet when we needed it, we decided that something had to be done. We then created the K-911 Animal Ambulance for us to help people in need like we were.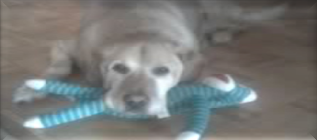 Timba
2002 – 2009
K911 Foundation